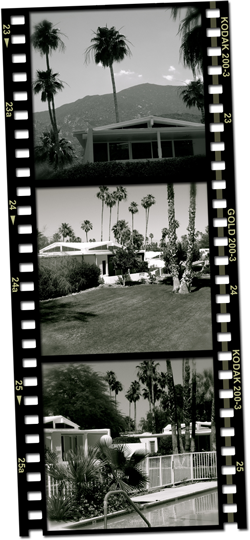 Canyon View Estates Two was designed by William Krisel for developer Roy Fey in 1962. William Krisel, AIA, (born in 1924) was principal of the firm of Palmer & Krisel. He grew up in the Los Angeles region and received his architecture degree at USC. Krisel is also a licensed landscape architect. He is one of the most known and respected architects developing Mid-century homes in Southern California, and designed more than 30,000 dwelling units throughout his career. Other Mid-century projects built by the firm Palmer & Krisel include the Ocotillo Lodge, Kings Point, Vista Las Palmas, Racquet Club Estates, Valley of the Moon, and the Sandpiper complex.

Canyon View Estates was built in stages, and as each new group of homes were completed, a new homeowners association was created (i.e. Canyon View Estates Two). While there are six separate HOAs, the architectural style is consistent giving the neighborhood its distinctive feel.

Each association is clustered around a common pool, spa and greenway. Some consistent elements of the design include individual carports, native stone on the front exterior, floor-to-ceiling windows, unique rooflines, clerestory windows and patterned cinder block. But look closely and you will find subtle differences that make each home unique, which is very distinctive among Krisel-designed projects.

Through its post and beam construction, vaulted ceilings, walls of glass, patios, and ground level entries, the homes offer a lifestyle where the interior of the units blend into the desert exterior. Some of the unique features in its construction comes from the era, but one in particular is the attic-less rooflines, which give the homes a very light feel.

While Canyon View Estates was created primarily as vacation homes, through the years more and more homeowners have decided to make it into their full time residence. The ideal location and timeless Mid-century floor plan make Canyon View Estates a relaxing, spacious and scenic spot for visitors and homeowners to enjoy for years to come.